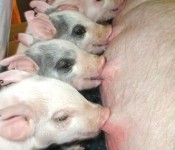 By Dr. Casey Bradley, ASAS Public Policy Committee
Nov. 1, 2016 – As members of the American Society of Animal Science we should be deeply disappointed in a recent portrayal of the pork industry by the Chicago Tribune. The Tribune's four-part "Watchdog" series in August 2016 regarding the Illinois Pork Producers Association is an unfortunate example of communication gone wrong.
It also brings to light how easily information can be misrepresented "When reporters start with preconceived conclusions and only accept evidence to support them..." points out William Johnson, Agriculture Coordinator at Joliet Junior College.
The Illinois Pork Producers Association worked with Chicago Tribune reporters David Jackson and Gary Marx for several months on their series of articles focused on the Illinois pork industry. IPPA viewed the interaction as an opportunity to "tell their story" and to provide a balanced and educated voice on livestock production. However, the series of articles (see links below) did not paint a balanced or positive picture of an industry that generates more than $1.5 billion of revenue annually for Illinois.
This example brings back memories of an ASAS science communication symposium from the 2016 Joint Annual Meeting in July, which was summarized in this Taking Stock D.C. article by Tameka Phillips. During the symposium, William Hallman gave a great example of many consumers not being educated appropriately to make informed decisions about GMOs. The same can be said about swine production represented in the Tribune articles, and the result is this detrimental series by the Chicago Tribune.
As animal scientists we should not give up hope. We need to be both better prepared for interviews with reporters and choose media outlets that will represent the facts with minimal bias.
If a reporter asks you for an interview, ASAS recommends beginning with "Five questions you should ask reporters," which include:
Can you repeat your name and the name of this publication?
What is your deadline?
What is this article about?
How will my interview be used?
Have you spoken with other experts?
Incidents such as the Tribune series should not make us fearful. Rather, they should motivate us to seek opportunities to improve our skills, tell our stories, and deliver messages about our important role in food-animal production.
Headlines from the Price of Pork, a Chicago Tribune "Watchdog" series:
Read this letter to the editor from the Illinois Pork Producers.
Photo: National Pork Board