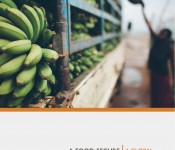 By Dr. Wendy Powers, ASAS Policy Committee
Nov. 1, 2016 – A new USAID report on global hunger and food security shares a vision and call to action contextualized by the identification of several emerging trends. These trends include urbanization, migration, dietary changes and climate change. They offer both challenges and opportunities to the United Nations' Millennium Development Goals of ending hunger, achieving food security and improved nutrition, and promoting sustainable agriculture.
Because food security is an issue of national security, and, if income allows, animal protein is a desired component of the diet for many around the world, increased resilience to weather variation and extremes, price volatility, water shortages, and environmental impacts is an important consideration for livestock producers globally.
While the report focuses on the topic of improving resiliency and reducing risk as a means to sustainably overcome poverty, with particular emphasis in working with women, the reality is that improved resiliency is needed across production agriculture, even here in the U.S. This requires managing and minimizing risk through adoption of tools and practices and diversification of agricultural products such that price and weather-related shocks and stresses can be overcome.
Specifically, the report calls out a need to increase sustainable production through climate-smart approaches. While not a topic of focus during the Presidential debates, there is considerable research underway across the U.S. that focuses on the need for new approaches to climate-smart livestock production practices. Unless we want the same results that we have always had, we must do something other than what we have always done.
As reported recently by Feed the Future, "Business as usual is not going to lead to the changes necessary for a food-secure 2030. Simply doing more and spending more are not enough to solve the challenges of hunger, extreme poverty and malnutrition."
While the focus of these reports has been on food production in developing countries, these same messages apply here at home.