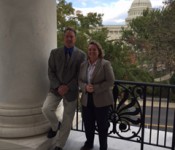 Nov. 1, 2016 – A recording of the October 24th Snack & Fact briefing on "Food Animal Production in the Genomics Era" is now available. Three ASAS delegates were in Washington D.C. to present the briefing and meet with stakeholder groups.
ASAS delegates included guest speakers Dr. Penny Riggs, Texas A&M University, and Dr. Kent Weigel, University of Wisconsin-Madison, as well as Kim Schoonmaker, ASAS staff. Dr. Julie McClure, ACSESS Science Policy Manager, and Karl Anderson, Director of Government Relations for ACSESS (Agronomy, Crop, Soil and Environmental Science Societies), accompanied the group for the day. After the briefing, the delegates met with the legislative assistants for Rep. Bill Flores (TX-17) and Rep. Mark Pocan (WI-2).
Access the audio recording and PowerPoint presentation from the genomics briefing.
For a recap of the Oct. 24 Snack & Fact, read ASAS hosts Snack & Fact.
Photo: Dr. Kent Weigel and Dr. Penny Riggs