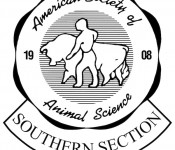 Southern Section Members: The deadline for award nominations is this Friday, November 4, 2016 at 11:59 pm CDT.
There are numerous Southern Section members who deserve to be recognized for their contribution to the science of animal agriculture. Some have contributed for many years, whereas others are just beginning their careers. Please nominate your deserving colleagues. The award nominations are to be submitted electronically here.
Also, please note that the Graduate Student Representative Nomination Deadline is this Friday, November 4, 2016.
Not yet registered for the 2017 meeting? Register online today. Early registration deadline is December 1, 2016. Housing deadline is January 13, 2017.