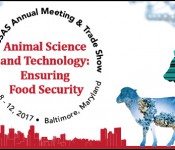 Abstract submission for the 2017 ASAS-CSAS Annual Meeting & Trade Show is now open.
Members are encouraged to submit original research, teaching, and extension papers. Abstracts should consist of original, completed work that has not been accepted for publication in a journal. Authors need to be aware of patent considerations before submitting abstracts for publication.
Criteria for acceptance or rejection will include those outlined on the Call for Papers page, as well as originality, clarity, and merit. Consolidation of results into one combined paper is urged whenever possible.
Submission Fee 
There is a required $30 technology fee per abstract due upon submission. This fee helps mitigate the cost of e-Posters and the Virtual Meeting.
New to 2016: Submitting authors can either pay at the moment of submission or they can assign a "payment contact." Payment contacts have the ability to pay for multiple abstracts at once. Submitting authors cannot confirm abstract submission until an abstract is paid for.
Nonmember Early Registration Policy
All accepted abstracts are required to be presented. To reduce the number of no-show presenters the following policy is being reinforced for 2017:
If the presenting author is a member of ASAS or CSAS, the presenting author has until the day of presentation to register for the conference. If no one shows up for the presentation or if the presentation author does not register by the day of the presentation, the abstract will be removed from the abstract book. This includes e-Poster presentations.
If the presenting author is not a member of ASAS or CSAS, he/she has three days from the time acceptance notifications are sent out to register for the meeting. Accepted/reject notices are currently scheduled to go out March 27, 2017 and the deadline for nonmember registration is March 30, 2017.
If the review process is delayed, an email will be sent to all submitting authors notifiying them of the delay and the nonmember registration deadline will be adjusted accordingly.
If the presenting author does not register for the meeting by this deadline, the abstract will automatically be rejected.
Please note that the submission fee and the registration fee are not the same thing.
Click here to register for the meeting.
Click here to sign up for an ASAS or CSAS membership.
Important Meeting Details:
AnimalX Speaker Nominations Deadline (Nominate potential speakers by selecting "Begin a Submission" underneath the AnimalX section on the Abstract Submission Page.)
December 1, 2016
Early Bird Registration Deadline
February 10, 2017
Abstract Submission Deadline
March 1, 2017
Meeting Dates
July 8-12, 2017
Meeting Location
Baltimore Convention Center
Housing Deadline
June 19, 2017