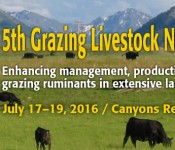 Abstracts and full articles from the 5th Grazing Livestock Nutrition Conference (GLNC), held July 17 to 19, 2016, are now available as a supplement to the Journal of Animal Science.
Visit the Volume 94, Issue supplement 6, November 2016 Table of Contents for more information.
Access additional ASAS publications, educational tools, and web programming through the ASAS Publications Page.