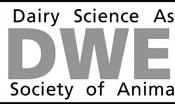 Nominations for 2017 Midwest Section awards are due tomorrow, November 18, at 11:59 PM (CDT). Submit award nominations here.
Midwest ASAS awards include:
Outstanding Young Extension Specialist Award
Outstanding Young Researcher Award
Outstanding Young Teacher Award
Outstanding Early Career Agribusiness Award
National Pork Board Swine Innovation (Abstract) Awards
Stahly/Peo Outstanding Swine Nutrition Midwest Graduate Student Award
Animal Science Young Scholars (nominations now closed)
The annual meeting of the Midwestern Section ASAS and Midwest Branch ADSA® will be held in Omaha, NE, on March 13-15, 2017. Register online or print the PDF Registration Form.
Access hotel information at the 2017 Midwest Meeting website.
Important program information:
Abstract Decisions Announced: December 9, 2016
E-Poster Submission Opens: December 19, 2016
Program Book Online:
Draft: February 1, 2017
Final: February 17, 2017
Abstract Book Online: February 17, 2017
App Launch: February 17, 2017
E-Poster Submission deadline: February 20, 2017
Additional meeting information may be found at the 2017 Midwest Meeting site.