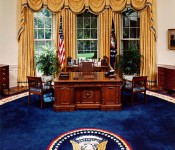 Used with permission from the November 16, 2016 ASA, CSSA, SSSA Science Policy Report
The voters have chosen Donald J. Trump as the 45th president of the United States. So now it's time for scientists to share their thoughts with the business tycoon who triumphed over both Democrat Hillary Clinton and much of the Republican party he represented in the election. There's been almost no interaction between the science community and the campaign over the past 18 months. Most academics didn't support Trump and never expected him to beat Clinton. Trump operatives didn't do any outreach to the scientific establishment, and its agenda wasn't addressed during the campaign. But now that Trump will be occupying the Oval Office for the next 4 years, researchers want him to know what they think it will take to preserve and strengthen the scientific enterprise.
Related reading in Taking Stock: What does a Trump presidency mean for science?
Photo: Wikimedia Commons