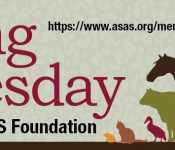 ASAS Foundation Recognizes Members on Giving Tuesday
Each year we receive thousands of emails announcing Black Friday Specials, Small Business Saturday Incentives and Cyber Monday Deals, but we receive far fewer advertisements for a day when we can truly make a difference: Giving Tuesday!
This year the ASAS Foundation asks that you give to the Foundation on Giving Tuesday! An ASAS Foundation gift can have a lifetime impact. Most gifts to the ASAS Foundation are to one of our many Appreciation Clubs – these Clubs are set up to honor and pay tribute to animal scientists who have made great impacts throughout their careers. The clubs serve double duty, first to honor and remind us of their namesakes and second to provide funds to  directly support ASAS members! Visit the ASAS Foundation website to learn about all the clubs.
Today the Foundation is actively fundraising for the following clubs:
The ASAS Foundation has many ways to give and throughout the course of a year, providing over $100,000 in direct support back to members of the American Society of Animal Science. The ASAS Foundation ensures student travel, internships, international engagement, publication, awards, and the highest quality scientific programming.
As you are considering donations on Giving Tuesday, we humbly ask that you consider giving to the ASAS Foundation.