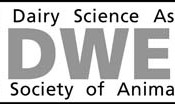 During the last 12 months, the Midwest Section lost two of its most dedicated members: Dr. Don Mahan and Dr. Kees de Lange. In their honor, the ASAS Midwest Section and the ADSA Midwest Branch are creating Memorial and Tribute awards.
Dollars in Dr. Mahan's name will be used to fund travel expenses of the Midwest Ph.D. oral competition winner, which will allow that person to give a Junior Podium Talk at the ASAS National Meeting. Dollars in Dr. de Lange's name will be used to give a yearly award for the most innovative modeling abstract submitted to the meeting.
Please consider a donation in honor of Dr. Mahan or Dr. de Lange.
Memorials and Tributes are held in the ASAS Foundation and are considered tax deductible donations to the American Society of Animal Science.