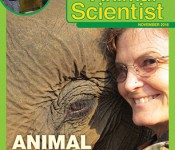 Jr. Animal Scientist membership is a great gift for the children in your life! The Jr. Animal Scientist magazine features eye-catching animal photos, fun activities and articles about a specific aspect of animal science. For example, the November 2016 issue focuses on animal science jobs.In the issue, kids get an overview of four animal science careers that they may never have thought about. They "meet" a husband and wife who make rumen cannulas, an animal scientist who studies reindeer and musk ox reproduction in Alaska, a zoo endocrinologist, and a man who makes life-like animal models for researchers and veterinary students. Special thanks to Victoria Kennedy, North Dakota State University, for interviewing these people and contributing the content for the issue!
The magazine is ideal for ages 5-9, so sign up children in kindergarten through 3rd grade.
Don't forget the educators on your list! Give a local elementary school classroom or youth program a classroom/group subscription. The cost is just $5 per student. Copies of the magazine will be sent to the classroom or youth program year round. Students also have access to exclusive online resources.
Visit AnimalSmart.org today to sign up for an individual, family, or classroom/group subscription!
We always welcome your ideas for upcoming issues. The magazine is published in January, March, May, July, September, and November. Thank you to those who have already suggested ideas for our 2017 issues. Keep the ideas coming! Email kims@asas.org