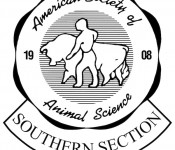 The 2017 Abstract book for the Annual Meeting of the Southern Section, American Society of Animal Science is now available online in .pdf format. The abstract book will be available in a searchable .html format on the JAS website in a few weeks.
The 2017 Southern Section Meeting will be held in Franklin, Tennessee on February 4 – February 7, 2017, at the Franklin Marriott Cool Springs.
REGISTRATION
Register online today! Registration information can be found on the SSASAS website under the registration information tab. A printable registration form is also available.
HOUSING
A block of rooms has been set aside for this meeting. Please see the reservation information below to secure a room for your stay during the meeting. Please make your reservations early, as these rooms will go fast. The housing deadline is January 13, 2017.
Visit the 2017 Southern Section Annual Meeting website often for updates:
https://www.asas.org/membership-services/asas-sections/southern-section/meetings
If you have any questions, please contact the ASAS Business Office at asas@asas.org.
We look forward to seeing you in Franklin!