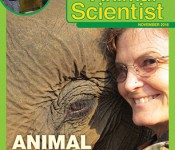 The following contributors helped make the content of our 2016 Jr. Animal Scientist issues possible.
A warm thank you to these individuals:
Jacie Sweeney, Sara Guillen, Lensey Watson, Will Pohlman, Caleb Shepherd, Jessica Breslau, Kyra Campbell and Sarah Mason, University of Arkansas Department of Animal Science REPS, for "Baby Animals," January 2016.
Chloe Mitchell and Holly Webb, 2016 ASAS/ASAP interns, for "Animals Down Under," March 2016.
Nichole Chapel and Christopher Byrd, Purdue University, for "Animal Enrichment," May 2016.
Anna Peterson, North Dakota State University, for "Animal Efficiency," July 2016.
Lisa Page, Sarah Noelle, Sandra Johnson, Kathleen Delzell, and Theresa Becchetti, Society for Range Management, for "Great Grazing," September 2016.
Victoria Kennedy, North Dakota State University, for "Animal Science Jobs," November 2016.
We look forward to new Jr. Animal Scientist partnerships in 2017. There are still a couple issues that need contributors. If you have an idea, or wish to contribute content, let us know. Email kims@asas.org
We also welcome new content, images and videos for the AnimalSmart.org website. Share your science with the kids!
Individual, family and group subscriptions to Jr. Animal Scientist are available.