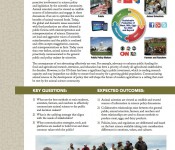 The ASAS Public Policy Committee and ASAS Board of Directors have released a new "Grand Challenges" document on science communication. The paper discusses the challenge of effectively communicating sound science to the general public and policy creators. There are seven other Grand Challenges documents, all of which address animal science research priorities and animal-based food challenges. Read each Grand Challenges document:
Agricultural Animals and Climate Change
Water Quantity and Quality in Agricultural Animal Production
The Grand Challenges documents were prepared to clearly articulate our priorities, to provide science-based information for shaping public policy, and to enhance future funding for research and education programs in animal science.