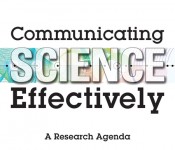 The National Academies Press has released a new report, Communicating Science Effectively: A Research Agenda, and will host a public discussion on January 10, 2017. Communicating Science Effectively proposes a research agenda to help science communicators and researchers identify effective methods of communicating science, particularly when the issues are contentious.
The report is available to download or pre-order.
The public discussion for Communicating Science Effectively will be held on January 10, 2017, from 11:00 a.m. – 1:30 p.m. EST at the National Academies Keck Center in Washington, D.C.
Register to attend in person, or watch live via the webcast.
The discussion will include a committee member panel presentation of the report by:
ALAN LESHNER (Chair)
CEO Emeritus, American Association for the Advancement of Science
DIETRAM SCHEUFELE (Vice Chair)
Department of Life Sciences Communication, University of Wisconsin–Madison
THOMAS DIETZ
Environmental Science and Policy Program, Michigan State University
WILLIAM HALLMAN
Department of Human Ecology, Rutgers University
SYLVIA ROWE
SR Strategy LLC
Commentary will follow from a panel of leading science communicators, researchers and sponsors of science communication research on ways of implementing the agenda.
This study and public discussion are sponsored by the Burroughs Wellcome Fund, David and Lucile Packard Foundation, Gordon and Betty Moore Foundation, Rita Allen Foundation (via Climate Central), and William and Flora Hewlett Foundation.