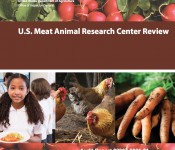 The USDA Office of Inspector General (OIG) has released a final report regarding an audit of animal care at the U.S. Meat Animal Research Center (USMARC) in Clay Center, Neb.
In the final report, OIG states its objectives were to "evaluate the research practices and operations of USMARC and to evaluate the concerns expressed by Congress and reported by the media regarding animal welfare." OIG also "examined ARS' oversight and monitoring of USMARC as it relates to animal welfare."
In particular, OIG evaluated 33 specific statements from an article published January 19, 2015 in The New York Times. The statements were in regard to animal care and mortality levels at USMARC. Of the 33 statements, OIG "determined that only 7 were materially accurate—26 were inaccurate, lacked sufficient context, or were uncorroborated (See Exhibit A in the report). Overall, we did not note evidence indicating a systemic problem with animal welfare at USMARC."
OIG also states that "Although we found the article did not always accurately present animal welfare at USMARC, we did find that ARS could improve its oversight of animal welfare at the facility and take steps to make its research more transparent to the public."
An article in the Lincoln Journal Star also discusses the report's findings.