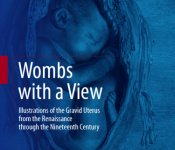 Drs. Lawrence Longo, Loma Linda University, and Larry Reynolds, North Dakota State University, have recently published a book entitled "Wombs with a View: Illustrations of the Gravid Uterus from the Renaissance through the Nineteenth Century" (Springer, 2016; ISBN: 978-3-319-23566-0 [hardcover], 978-3-319-23567-7 [eBook]; doi: 10.1007/978-3-319-23567-7).
Longo, who died in January of 2016 at 89 years old, was Distinguished Professor of Obstetrics and Gynecology, Physiology & Pharmacology, and Biochemistry, and Founding Director of the Center for Perinatal Biology, at the Loma Linda School of Medicine, in Loma Linda CA. Reynolds is University Distinguished Professor of Animal Sciences, and Founding Director of the Center for Nutrition at North Dakota State in Fargo ND.
"Dr. Longo fondly referred to the book as his 'Magnum Opus,' or Great Work," said Reynolds. "He was a giant in perinatal research, and in addition a strong advocate for training physician-scientists in Reproductive Biology – for example he played a major role in establishment and success of NIH's Reproductive Scientist Development Program, serving as PI on the original grant application in 1988, and subsequently as its Director and Co-Director for the next 26 years," Reynolds added.
The book presents more than two hundred historical illustrations of the pregnant uterus, which includes the fetus and placenta, and describes the background of each of the 127 authors and their contributions. "The goal of the project was to put these illustrations into historical context and highlight their important contributions to advances in obstetrics and gynecology through the centuries," said Reynolds. "The initial impetus was that both of us realized, independently, that the vast majority of these illustrations of the fetus (Longo's area of specialization) and placenta (Reynolds' expertise) were 'lost.' That is, few copies of the books containing these illustrations exist, and therefore few have ever seen them. Even those more famous illustrations that are reproduced are almost always second generation copies, and therefore are of poor quality."
Another goal of the project was to obtain high quality, digital photographs of the illustrations. "Ninety-five percent of the several hundred images were taken by the photographer with whom we worked (Dominic Budicin of Riverside, California) and are of very high quality," said Reynolds. "We plan to place our images in the Images of the History of Medicine (IHM) archive of the U.S. National Library of Medicine (http://www.nlm.nih.gov/hmd/ihm/) so that anyone anywhere can download and use them."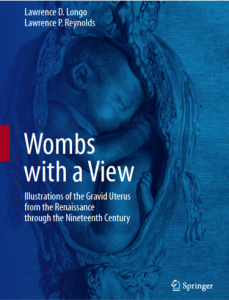 The book took the pair 10 years to complete. "The book took so long partly because we had to track down and photograph the historical illustrations, and partly because the list of authors just kept growing as we investigated the area further," said Reynolds.
Although Reynolds is not a historian, Longo published numerous articles and several books on fetal and postnatal development as well as the history of investigation in obstetrics and gynecology, most recently Stress and Developmental Programming of Health and Disease: Beyond Phenomenology (Public Health in the 21st Century series; Nova Science Pub. Inc., 2015; ISBN-13: 978-1633218369), and The Rise of Fetal and Neonatal Physiology: Basic Science to Clinical Care (Springer, 2013; ISBN -10: 1461479207; ISBN-13: 978-1461479208).