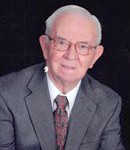 ASAS extends condolences to Dr. Jim Oltjen and his family, following the death of his father William H. Oltjen, who passed away January 1.
William Oltjen, 86, of Overland Park, Kansas, was born July 1, 1930, in St. Joseph, Missouri. Oltjen farmed with his father for many years prior to moving to Overland Park in 1982, where he was employed by Jay Wolfe for 22 years. Oltjen is survived by his wife Wilma, his two sons Jim and Thomas, and his daughter Rita Eckman, as well as five grandchildren and one great grandchild.
Dr. Jim Oltjen is an ASAS Fellow and an ASAS past president (2009-2010).