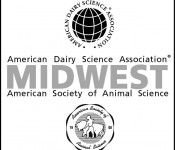 Due to an increased number of student (BS, MS, PhD) competition papers, we are in need of more judges for the student oral and poster presentations at the Midwest Meeting in Omaha.
A total of 76 student presentations (oral and poster presentations) have been accepted for the 2017 meeting. All presentations will be held the afternoon of Monday, March 13. If you are willing to serve as a judge please contact either Paul Walker [pwalker@ilstu.edu; 309 963-4913] or Gretchen Myers Hill [hillgre@msu.edu; 517 355-9676].
The Annual Meeting of the Midwest Branch of ADSA and the Midwestern Section of ASAS will be held March 13-15 in Omaha, Nebraska. Visit the Midwest Meeting website for registration, housing, and program information.