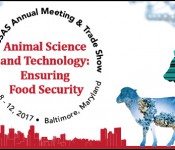 To ASAS Annual Meeting Abstract Submitters: As members begin to prepare submissions for the 2017 ASAS-CSAS Annual Meeting & Trade Show we have received questions concerning submissions of abstracts focused on dairy research. In particular, people are worried that autonomous ASAS and ADSA meetings means that ASAS will no longer accept Dairy abstracts. This is not true.
ASAS has always had a robust and independent dairy section, and we intend to continue to support and grow this section in the same manner as we do all species-based sections. ASAS has many members that focus almost exclusively on dairy science and, while we are not meeting jointly with ADSA in 2017, we wish to be inclusive. In fact, we have worked hard to have excellent dairy-specific programming in 2017, including the Biology of Lactation of Farm Animals Symposia and dairy-focused nutrition and physiology poster and oral sections.
ASAS welcomes good science regardless of species. If you have concerns, please contact the ASAS office at asas@asas.org.
To see a list of topics we accept abstracts under, please visit https://asas.org/meetings/annual-2017/abstracts and click Submit an Abstract.