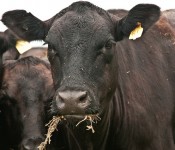 Join us for the 2017 Inaugural Southern Section Industry and Academic Pre-Conference Summit, February 4, 2017! The pre-conference program will focus on Delivery Systems for Protein and Energy Supplements.
Our goal is to share the perspectives of producers, academic, and industry personnel on multiple topics related to supplementation strategies, including limit grazing of high-quality annuals, infrequent feeding of supplements, use of protein tubs and liquid supplements. The summit was designed to complement the SERA41 symposium on Sunday, February 5 and the Bill Kunkle symposium on Monday, February 6. A social will follow the conclusion of the summit.
Preregistration is highly recommended. Registration fee is $30.00. Sign up while registering for the meeting or add the event to your existing registration online.
Pre-conference Schedule:
Saturday, February 4, 2017 • 1:30 PM – 8:00 PM
Location: Franklin Marriott Cool Springs, Room: Carothers
Chair: Philipe Moriel, University of Florida, Institute of Food and Agricultural Sciences, Range Cattle Research and Education Center
1:30 PM –  Free-Choice Supplementation for Beef Cattle, G. W. Horn*, Oklahoma State University, Stillwater
2:00 PM – Limit Grazing High-Quality Forages, S. A. Gunter*¹ and J. Baker*², ¹USDA-ARS Southern Plains Range Research, ²Southeast Agriseeds
2:45 PM – Liquid Feed Supplementation, J. D. Arthington*¹ and C. Bandyk*², ¹University of Florida, Range Cattle REC, ²WestWay Feeds
3:00 PM – Break
3:10 PM –  When Should I Reduce the Supplementation Frequency? P. Moriel*, University of Florida, Range Cattle REC
3:30 PM – How to Successfully Use Blocks and Tubs, J. W. Lehmkuhler*¹, G. Halich*¹, M. Robbins*², and A. Scheaffer*³, ¹University of Kentucky, ²Ridley Block Operations, ³SweetPro Feeds
4:30 PM – Break
4:55 PM – Panel Discussion: Producer Insights on Supplement Delivery Systems
6:00 PM – Social