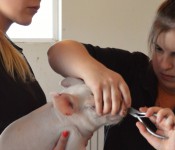 Good news for the field of animal science! According to a StartClass article posted on December 21, 2016, college students majoring in Animal and Plant Sciences, as well as Agriculture, have some of the lowest post-graduate unemployment rates. In fact, Animal and Plant Sciences ranked #9 out of 26 college majors with the lowest unemployment rates post-graduation! Agriculture (in general) came in #2 out of 26. 
Read the StartClass article, College Majors with the Lowest Post-Graduation Unemployment.
See which majors have the lowest post-grad unemployment rates, and specifically how Animal and Plant Sciences ranked and Agriculture in general.
StartClass is an education research site. StartClass arrived at its top-26 list by using data from the Federal Reserve Bank of New York.