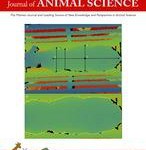 The Journal of Animal Science (JAS) made incredible strides in 2016! Celebrate with us, and keep submitting, reviewing and utilizing the journal.
JAS has long been recognized internationally as the premier journal in animal science, but we have struggled, like all journals, with review times and access issues. After five years, investments in the journal, a change in production offices and three amazing EiCs, 2016 culminated in a banner year for JAS!  JAS now boasts the fastest time to publication among journals in its field:
Time to first decision: 37.2 days
Time to acceptance: 108.8 days
Time to First Look: 110.8 days
Time to publication: 159 days (5.3 months)
To put this in animal science terms: Publishing a paper in JAS used to be equivalent to the gestation length of cattle. Today, it is close to the gestation length of sheep. The next goal swine!
Other stats of interest:
Impact factor: 2.1
Eigen factor: .024
Google scholar h5 index: 45 and h5 median: 59
Total pages published in 2016: 5,476 plus 1,913 pages from 6 supplements
Total citations: 26,311
New Journal Rewards Program 
To achieve this change in JAS, we had to change the culture of review, insisting that not only was it important to have high-quality reviewers, but to stress that in order to ensure fast-paced access to cutting-edge research, review had to be fast. In 2016, reviewers of JAS met and exceeded our challenges. As a reward, we are rolling out a new journal review rewards program. We will keep track of your lifetime review record and every time you complete 20 reviews you will receive a free publication in JAS (1 free paper = 10 journal pages in length). We have pulled a series of current journal stats that will be used as a starting place, with a number of authors closing in on their first free paper. Please contact the ASAS office at asas@asas.org if you want to know where you stand.
Thanks again to our authors, reviewers and readers for working so hard to continually improve the quality of JAS.