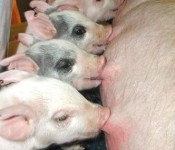 The Triennial Lactation Symposium and Biology of Lactation of Farm Animals (BOLFA) will occur as a pre-conference to the 2017 ASAS-CSAS Annual Meeting & Trade Show. Make plans to attend this pre-conference on July 8, 2017! The speaker line up is one of the most impressive in BOLFA history.
"The Biology of Lactation – From Genes to Cells to Milk" includes:
Bob Collier (University of Arizona, USA) – "Historical perspectives of lactation biology in the late 20th and early 21st centuries"
Mike Akers: (Virginia Tech, USA) – "Plasticity of mammary development in the prepubertal bovine mammary gland"
Russ Hovey (UC Davis, CA, USA) – "Dietary regulation of allometric ductal growth in the mammary glands"
Steve Davis (New Zealand) – "Quantitative regulation of mammary development"
Marie-France Palin (AAFC, Sherbrooke, Canada) – "Adipokines affect mammary growth and function in farm animals"
Tom McFadden (University of Missouri, USA) – "Lactational adaptations to environmental challenges"
Geoff Dahl (University of Florida, USA) – "Programming and epigenetic impacts of late gestation heat stress in dairy cattle"
Laura Hernandez (University of Wisconsin, USA) – "Serotonin and the regulation of calcium transport in dairy cows"
Rupert Bruckmaier (University of Bern, Switzerland) – "Pathogen-specific immune response and changes in the blood-milk barrier in the bovine mammary gland"
View the meeting registration brochure for full meeting details.
Join us for the 2017 ASAS-CSAS Annual Meeting & Trade Show in Baltimore, Maryland, July 8 to 12, 2017.
Photo courtesy of the Animal Science Image Gallery