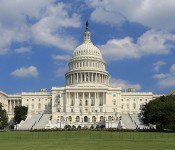 By Dr. Penny Riggs, ASAS Public Policy Committee Chair
As the 2018 Farm Bill looms in the not-too-distant future, membership of the House and Senate agriculture committees is nearly set for the 115th Congress. However, the confirmation hearing date for Agriculture Secretary nominee, Sonny Perdue, has not yet been set.
House Agriculture Committee Chairman K. Michael Conaway (R-TX) announced Glenn "GT" Thompson (R-PA) as Vice Chairman and the addition of six new Republican freshmen to the committee, including Jodey Arrington (TX), Don Bacon (NE), James Comer (KY), Neal Dunn (FL), John Faso (NY), and Roger Marshall (KS). Ranking minority member, Collin Peterson (MN), announced new Democrat members as Dwight Evans (PA), Al Lawson (FL), Darren Sota (FL), Tom O'Halleran (AZ), and Jimmy Panetta (CA). These newcomers join a committee that includes 26 Majority members along with 21 Minority members.
Six subcommittees include Commodity Exchanges, Energy, and Credit, chaired by Austin Scott (GA); Conservation and Forestry, chaired by Frank Lucas (OK); Nutrition chaired by GT Thompson (PA); General Farm Commodities and Risk Management, chaired by Rick Crawford (AR); Biotechnology, Horticulture, and Research, chaired by Rodney Davis (IL); and Livestock and Foreign Agriculture, chaired by David Rouzer (NC).
In the Senate, Pat Roberts (KS) chairs the Committee on Agriculture, Nutrition, & Forestry, while Debbie Stabenow (MI) serves as ranking member. Additional members include Thad Cochran (MS), Mitch McConnell (KY), John Boozman (AR), John Hoeven (ND), Joni Ernst (IA), Chuck Grassley (IA), Jeff Sessions (AL), John Thune (SD), Steve Daines (MT), and David Perdue (GA), although Senator Sessions will be replaced if he is confirmed as U.S. Attorney General. Minority members include Patrick Leahy (VT), Sherrod Brown (OH), Amy Klobuchar (MN), Michael Bennet (CO), Kirsten Gillibrand (NY), Joe Donnelly (IN), Heidi Heitkamp (ND), Robert Casey, Jr. (PA), and Chris Van Hollen (MD).
The Senate subcommittees include Commodities, Risk Management, and Trade, chaired by John Boozman (AR); Rural Development and Energy, chaired by Joni Ernst (IA); Conservation, Forestry, and Natural Resources, chaired by David Perdue (GA); Nutrition, Specialty Crops, and Agricultural Research, chaired by John Hoeven (ND); and Livestock, Marketing, and Agriculture Security chaired by Ben Sasse (NE).
Senate field hearings for the 2018 Farm Bill reauthorization will begin in Manhattan, Kansas on February 23. According to Chairman Roberts in a press release, "It's time to get to work on another Farm Bill, and we're heading straight to the heartland to talk directly to producers." Ranking Member Stabenow also stated, "I am looking forward to this first field hearing in Chairman Roberts' home state to hear directly from producers and others who care about rural America so we can craft a bill that continues to strengthen American agriculture as well as small towns and rural communities."
Sonny Perdue, former governor of Georgia, is the nominee for Secretary of Agriculture, to succeed Tom Vilsack as head of the U.S. Department of Agriculture. Currently,USDA has 29 agencies with nearly 100,000 employees at more than 4,500 locations, and its proposed FY2017 budget contains $24.6 billon discretionary spending.
Perdue served as Governor of Georgia from 2003-2011. He earned a doctorate in veterinary medicine at the University of Georgia, served in the U.S. Air Force, and has experience as an agribusiness owner. Chairman Roberts, in a statement following Perdue's nomination, said, "The Secretary must understand all aspects of the job. A strong understanding of agriculture, rural development, natural resources, and nutrition programs is a must. In addition, the nominee must understand the effects of regulatory actions outside the Department of Agriculture and the importance of trade to our farmers and ranchers. We need an advocate for agriculture. I appreciated my conversation with Governor Perdue before his announcement and look forward to meeting with him again as the Committee completes a thorough confirmation process. Together, we must get to work addressing these immediate and future challenges."