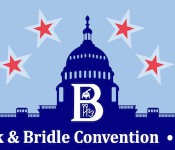 The 97th National Block & Bridle Convention will be held March 31-April 2, at the Crystal Gateway Marriott in Arlington, Va. The meeting theme is "Scientific Voice in Agriculture." Early registration ends February 3!
The convention is co-hosted by the University of Connecticut and the American Society of Animal Science.
Housing information is available here.  Learn more about local attractions and transportation.
See the preliminary meeting schedule.