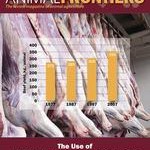 The first Snack & Fact briefing of 2017 is tentatively scheduled for Monday, February 27, in Washington, D.C. The theme of the briefing is "The use of performance-enhancing technologies in global livestock production" and is based on content from the October 2016 issue of Animal Frontiers.
Guest speakers include: Dr. Mike Azain, University of Georgia, and Dr. Caird Rexroad, with the USDA ARS National Program for Aquaculture. Dr. Penny Riggs, Texas A&M University and Chair of the ASAS Public Policy Committee, will provide an introduction and overview.
Mark your calendar and watch for more information to come.
Learn more about the Snack & Fact program here.