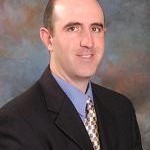 Dr. Jason Banta, Texas A&M AgriLife Extension Service, received the Southern Section Extension Award at the 2017 Southern Section Meeting, held Feb. 4-7,  in Franklin, Tenn.
Banta has worked as an Extension Beef Cattle Specialist for the Texas A&M AgriLife Extension Service for the past 11 years. He developed a highly successful and well-recognized Extension Program, which includes presentations at more than 550 Extension meetings. A highlight of Dr. Banta's career has been the co-development of 5 banner programs that provide clientele with daylong, in-depth training on specific topics such as bull selection or hay production and purchasing.
Banta has been an active ASAS member. From 2009 to 2011 he served on the Executive Committee of the Southern Section Extension Group; serving as Chair in 2011. In 2013, he served on the Extension Education Committee for the National ASAS meeting. In addition to his Extension activities, Banta has been a valuable collaborator on several research projects, served on 7 graduate student advisory committees, and annually teaches an applied nutrition course for Texas A&M's 3rd year veterinary students.
Congratulations, Dr. Banta!
Media contact:
Kim Schoonmaker
ASAS Scientific Communications Associate