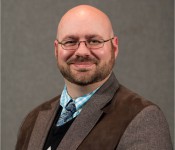 The Southern Section of the American Society of Animal Science is pleased to award William "Brandon" Smith with its Emerging Young Scholar Award. Smith accepted the award during the 2017 Southern Section Meeting, held February 4-7, in Franklin, Tenn.
Smith is a native of Slocomb, Alabama. He received dual B.S. degrees from Auburn University (agronomy & soils; animal sciences) in 2012 and an M.S. from the University of Arkansas (ruminant nutrition) in 2014.
Smith is a Ph.D. student at Texas A&M University, specializing in forage agronomy and the forage-animal interface. His undergraduate research centered on production practices to improve annual ryegrass yield in Alabama, and his M.S. research focused on limit-feeding byproduct feedstuffs. Smith is currently evaluating the use of dried distillers grains with solubles (DDGS) in stocker supplementation programs on actively-growing warm season perennial pastures. He gave the Emerging Scholar presentation, "Impact of DDGS supplementation of cattle grazing bermudagrass on the plant-animal-environment nexus," during a Pastures and Forages session on Tues., February 7.
Smith has one manuscript in addition to six extension papers, one book chapter, two popular press articles and 26 abstracts. He is a past Graduate Director of both the American Society of Animal Science and the American Society of Agronomy Boards of Directors. Smith plans to finish his Ph.D. program in May 2017.
Congratulations, Brandon!
Media contact:
Kim Schoonmaker
ASAS Scientific Communications Associate