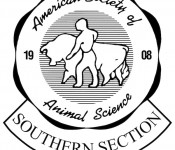 The Southern Section of the American Society of Animal Science installed new officers during the 2017 Southern Section Meeting, held February 4-7, in Franklin, Tenn.
During the Southern Section Business Meeting on Mon., Feb. 6, the President's gavel transferred from Dr. Jane Parish to Dr. Charles Rosenkrans.
Newly elected Southern Section Officers include:
Christy Bratcher, who will serve as the Secretary-Treasurer Elect.
Sam Ingram, Southern Section Graduate Student Representative.
The 2017-2018 Officers of the Southern Section ASAS:
President
Charles Rosenkrans
President-Elect
Jeffrey Carroll
Past President
Jane Parish
Secretary-Treasurer
Paul A. Beck
Secretary-Treasurer Elect
Christy Bratcher
Southern Section Director
Matthew Poore
Graduate Student Representative
Sierra Lockwood
Graduate Student Representative
Sam Ingram