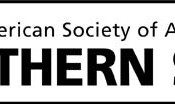 Graduate student oral competitions took place during the recent Southern Section Meeting in Franklin, Tennessee. Winners were honored during the Awards Banquet, held Mon., Feb. 6. Here are 1st, 2nd, and 3rd place rankings in each competition division:
Ph.D. Division
1st place – Abstract 044 – Intensified Cow-Calf Production in the Southern Great Plains.  A. L. McGee*, Oklahoma State University, Stillwater
2nd place – Abstract 037 – Zinc Source and Concentration Altered Physiological Responses of Beef Heifers during a Combined Viral-Bacterial Respiratory Challenge.  A. B. Word*, Texas Tech University, Lubbock, USDA-ARS-Livestock Issues Research Unit, Lubbock, TX
3rd place – Abstract 043 – Evaluation of Statistical Process Control Procedures to Monitor Feeding Behavior Patterns and Detect Onset of Bovine Respiratory Disease in Growing Bulls.  W. C. Kayser*, Texas A&M University, College Station
M.S. Division
1st place – Abstract 032 – Use of Triptorelin Acetate for Inducing Ovulation and Facilitating Fixed Time Artificial Insemination of Sows Weaned on Small-Scale and Niche Market Pig Farms.  A. J. Fabi*, Virginia Tech, Blacksburg
2nd place – Abstract 027 – Milk Production Responses to Beef Cow Energy Intakes.  C. M. Spencer*, Oklahoma State University, Stillwater
3rd place – Abstract 036 – Effect of Acute or Chronic Water Restriction on Hematological Variables, Rectal Temperature and Performance in Parenteral or Intranasal Modified-Live Viral Vaccinated Beef Calves.  E. L. Kaufman*, West Texas A&M University, Canyon
Abstracts from the 2017 Southern Section Meeting are available online in .pdf format and in searchable .html format on the Journal of Animal Science website.
Download PDF Version of the SS Abstract Book
The 2017 Southern Section Meeting was held Feb. 4-7, 2017, in Franklin, Tennessee at the Franklin Marriott Cool Springs.