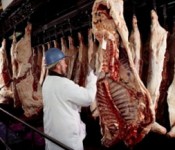 A Growth and Development Symposium featuring the History of Adipocyte/Adipose Tissue Research in Meat Animals is being planned for the 2017 ASAS-CSAS Annual Meeting & Trade Show in Baltimore, Md. Here is a sneak peak of the speakers and their presentation topics.
Ever since animals were first domesticated for food, trends in human consumption of meat have influenced the types of animals most highly prized. For most of this history, selection of animals was largely based on visual appraisal. However, by the early 20th century it had become apparent to producers that investigating the tissue and chemical composition of carcasses was integral to improving production and thus the field of adipose tissue research was born. This innovative research began to change how animals were selected, and the changes in meat and lard consumption after World War II spurred further research into adipose tissue and adipocytes.
This Growth and Development symposium pays tribute to those early researchers who laid the foundations for our current knowledge. The presentations shed light on a range of topics within the field of adipose tissue research, from the history of those early projects to recent findings.
With a focus on meat animals, Dr. Gary Hausman from the University of Georgia will address the history of research into carcass composition, fat deposition and marbling, while Dr. Werner Bergen of Auburn University will present on the history of adipose tissue metabolism research. Continuing on with the exploration of the history of this field, Dr. Terry Etherton from Penn State University will present an overview of adipocyte cellularity research in meat animals.
The symposium also includes a presentation on molecular regulation of adipose tissue in meat animals, delivered by Dr. Terry Brandebourg from Auburn University, and a presentation from Dr. Shih-Torng Ding of National Taiwan University, who will discuss how differentiation of porcine adipose-derived stem cells to adipocytes is regulated by adipokines and fatty acids.
Register today for the 2017 ASAS-CSAS Annual Meeting and Trade Show.
See you in Baltimore, July 8 – 12, 2017!