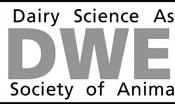 The Annual Meeting of the Midwest Branch of ADSA and the Midwestern Section of ASAS is fast approaching. Join us in Omaha, Nebraska on March 13–15, 2017.
REGISTRATION
Register today for the 2017 Midwest Meeting in Omaha. Registration information can be found on the 2017 Midwest Meeting website under the registration tab. A printable registration form is also available.
HOUSING
Rooms are going fast! Reserve your room online through the hotel links on the meeting website.  Special meeting rates available at the Hilton Omaha. Housing deadline is February 20, 2017.
WELCOME RECEPTION
Join us at The Durham Museum for a special Omaha welcoming reception on the evening of Sunday, March 12th. The museum is in the historic Union Station building, which first opened its doors to the public on January 15, 1931, as one of the finest of Art Deco architecture in the United States. This magnificent facility served millions of rail travelers and was well-known for its "modern" amenities and lavish style.
If you have any questions, please contact the ASAS Business Office at asas@asas.org.
We look forward to seeing you in Omaha!