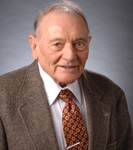 ASAS has learned of the passing of Dr. William Hansel, an ASAS member and Morrison Award recipient. Dr. Hansel passed away on January 2, 2017. He was 98 years old.
Dr. Hansel is greatly missed by family, as well as colleagues at the Pennington Biomedical Research Center at Louisiana State University. According to this tribute written in his memory, Dr. Hansel spent nearly 70 years working as a scientist and health research pioneer, building a legacy of dedication and discovery. He had a remarkable scientific career that will forever leave its mark on the face of cancer and chronic disease research. And even at 98 years old, Dr. Hansel kept regular work hours daily well into December 2016.
Prior to the Pennington Biomedical Research Center, Dr. Hansel spent 40 years as an esteemed scientist at Cornell University, including serving as chairman of the Physiology Department and as a revered Liberty Hyde Bailey Professor.
Dr. Hansel received the highest ASAS award, the Morrison Award, at the National Meeting in 1979. He was also the recipient of two Purple Hearts for his service in the Army during World War II.
Please read the tribute written in memory of Dr. Hansel's astounding career and accomplishments: http://www.pbrc.edu/news/making-an-impact/?ArticleID=365
Dr. Hansel's obituary is available at: http://www.rabenhorst.com/obituary/william-hansel/