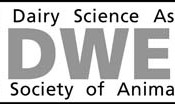 Midwestern Section Members: Officer elections for the ASAS Midwest Section are now open. Voting will remain open through 11:59 p.m. (CST) on March 10, 2017.
For the 2017 election cycle, the ASAS Midwest Section must fill positions for 1) ASAS Midwest President-Elect, 2) Midwest ASAS National Director-at-Large and 3) Midwest Section Graduate Director. The nominees for ASAS Midwest President-Elect are Dr. Richard Coffey and Dr. Steve Moeller. The nominees for Midwest ASAS National Director-at-Large are Dr. Michael Azain and Dr. Ryan Dilger. The nominees for the ASAS Graduate Student Director are Ashley Conway and Jeffrey Wiegert.
If you are a Midwestern Section member, you should have received an email with a link to the ballot, as well as an Elector ID and password. Please contact ASAS headquarters if you have questions: asas@asas.org
Please take a minute to vote for the 2017 ASAS Midwest Section Officers.