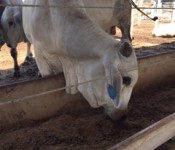 Kim Schoonmaker, ASAS Scientific Communications Associate, has been touring several farms in Brazil with her husband, Jon Schoonmaker, Purdue University Department of Animal Science, and Jon's dad, Gary.
First stop on our 14-day visit: Rio de Janeiro for a few days of sight seeing of the beautiful beaches, as well as the famous Christ the Redeemer statue and "Sugar Loaf Mountain." Magnificent views from both of these iconic places!
February 17 – Jon Schoonmaker demonstrates muscle biopsy technique to colleagues at a state government research farm in Colina, São Paulo State, Brazil. Later we tour the animal facilities and feeding area.
February 18- Toured state research facility in Sertaozinho, São Paulo State, Brazil. A major focus of this farm is the use of breeding and genetic selection to improve feed efficiency of Nelore and Senepol cattle.
February 18 – Afternoon tour of UNESP in Jaboticabel, São Paulo State, Brazil. Some of the Nelore bulls raised at this farm are fitted with a methane collection system.
February 21 – Jon Schoonmaker gives lecture on animal growth and development to graduate students at Universidade Federal De Lavras (UFLA) in Lavras, Minas Gerais (state). During the afternoon, we toured a diversified farm near Lavras. It consists of a 150-cow Holstein dairy farm (currently harvesting corn silage), a coffee plantation and 25,000 free-range laying hens.
February 22 – Tour of UFLA dairy and the dairy farm of one of our hosts, Marcos Neves Pereira, via horseback. Both of these farms milk Holstein cows.
View more pictures of the various production systems on the ASAS Facebook page!