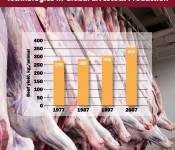 ASAS representatives were in Washington, D.C., today to host a Snack & Fact briefing on the "Use of Performance-Enhancing Technologies in Global Livestock Production."
Guest speakers included Dr. Mike Azain, University of Georgia and ASAS Public Policy Committee member, and Dr. Caird Rexroad, USDA-ARS National Program for Aquaculture. Dr. Azain gave a brief overview of performance-enhancing technologies and their impact on animal agriculture. Dr. Rexroad discussed the opportunities for performance-enhancing technologies in aquaculture. Dr. Penny Riggs, Texas A&M University and ASAS Public Policy Committee Chair, introduced the speakers and goals of the briefing.
Following the briefing, members of the group met with representatives from the North American Meat Institute and the National Cattlemen's Beef Association.
Special thanks to Julie McClure, Science Policy Manager for the American Society of Agronomy, Crop Science Society of America, and Soil Science Society of America, for assisting our speakers with preparations for the briefing.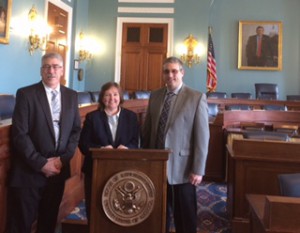 Photo (left to right): Mike Azain, Penny Riggs, and Caird Rexroad in the House Ag Committee hearing room in the Longworth House Office Building.