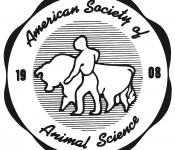 ASAS is pleased to announce that the 2017 ASAS National Awards are now open for nominations. Nominations are due March 9, 2017 at 11:59 PM!
The ASAS Awards Program is set up to honor the most significant contributions of our members to Animal Science, Animal Agriculture and to ASAS. The National Awards are one of our favorite programs in the office because the awards honor our history, celebrate our membership and help us to glimpse the future. Here are a few things about the ASAS National Awards Program that you might not know:
ASAS, the ASAS Foundation, and individual corporate sponsors, give out more than 40 awards per year with a total of more than $75,000 in support (and these numbers don't include sectional awards!).
The current ASAS Awards Program dates back to 1946.
Since 1946, ASAS has given out more than 1,000 awards.
Our oldest is the Morrison Award. The Morrison Award is recognized as the highest honor given by ASAS. It is the highest honor an Animal Scientist can receive within the field.
ASAS Award winners are recognized online, in the awards program, at the awards ceremony and in press releases issued by the society.
L.E. Casida and the H. Allen Tucker Lactation and Endocrinology Award are only given every 3 years. These 2 awards will be given in 2017.
*A new award has been added for 2017: The Wettemann Graduate Scholar in Physiology Award. Each nomination would need to submit a scientific abstract, CV of the nominee, letter of nomination from mentor and if selected will need to do a 30-minute presentation highlighting their work at the Annual Meeting in Baltimore.
Please nominate your colleagues for the 2017 ASAS National Awards.
 If you would like to re-nominate a colleague from a previous nomination, please email Melissa at Melissab@asas.org.