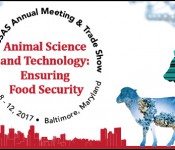 With the abstract deadline for EAAP and ISAG both being March 1, ASAS has received numerous requests to adjust the abstract deadline for the ASAS-CSAS Annual Meeting & Trade Show. General abstracts and competition abstracts can now be submitted until noon (11:59 AM, PST) on Friday, March 3.
Members are encouraged to submit original research, teaching, and extension papers. Abstracts should consist of original, completed work that has not been accepted for publication in a journal. Authors need to be aware of patent considerations before submitting abstracts for publication.
Criteria for acceptance or rejection will include those outlined on the Call for Papers page, as well as originality, clarity, and merit. Consolidation of results into one combined paper is urged whenever possible.
Submission Fee Updated
There is a required $30 technology fee per abstract due upon submission. This fee helps mitigate the cost of e-Posters and the Virtual Meeting.
New to 2017: Submitting authors can either pay at the moment of submission or they can assign a "payment contact." Payment contacts have the ability to pay for multiple abstracts at once. Submitting authors cannot confirm abstract submission until an abstract is paid for.
New Student Competitions!
The ASAS-CSAS Annual Meeting & Trade Show currently offers 5 competitions for student participants. Read more…
Nonmember Early Registration Policy
All accepted abstracts are required to be presented. To reduce the number of no-show presenters, a nonmember early registration policy is being reinforced for 2017. Read more…