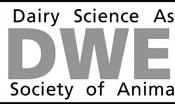 Pre-registration for the Annual Meeting of the Midwest Branch of ADSA and the Midwestern Section of ASAS ends tomorrow, March 3. Register today to avoid on-site registration lines.
Registration information can be found on the 2017 Midwest Meeting website under the registration tab. A printable registration form is also available.
Please sign up for these special events:
Welcome Reception at The Durham Museum on the evening of Sunday, March 12th. The museum is in the historic Union Station building, which first opened its doors to the public on January 15, 1931, as one of the finest of Art Deco architecture in the United States. This magnificent facility served millions of rail travelers and was well-known for its "modern" amenities and lavish style.
 on Monday, March 13th, 7:30 p.m., at the Upstream Brewing Company.
Graduate Student Breakfast and Learn on Tuesday, March 14th, 7:30 a.m, in Saint Nicholas A/B in the Hilton Omaha. The breakfast features guest speaker Chuck Sanger, a former Senior Media Relations Strategist with Charleston/Orwig Inc. and founder of CS Communications, LLC. Tickets are $10. Please register online.
Already registered? Add an event to your existing registration.
If you have any questions, please contact the ASAS Business Office at asas@asas.org.
We look forward to seeing you in Omaha, Nebraska on March 13–15!