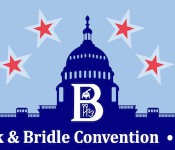 The 97th National Block & Bridle Convention is fast approaching. The meeting will be held March 31 to April 2, at the Crystal Gateway Marriott in Arlington, Virginia. Book your sleeping room today. Discounted housing rates have been extended to March 13, 2017!
Not yet registered for the meeting?  Secure your spot today as meeting space and sleeping rooms are filling up quickly!
Join us for a great meeting with a day of tours on April 1, 2017, where you will see a variety of farms, including ones unique to the eastern shore. Tours to include:
Madhouse Oyster Hatchery
University of Maryland Dairy
Outstanding Dreams Alpaca Farm
Spocott Farm
Tours will include a grab and go breakfast, lunch and an evening BBQ with DJ at historic Spocott Farm on Gary's Creek. Register for the meeting today to secure your tour seat!
In addition to the tours, we have great social events planned for the evenings, including:
Friday, March 31 – D.C. Monument Tours
Join us for an evening of monument tours as we stop at the Martin Luther King Jr. Memorial, the U.S. Capitol and the Lincoln Memorial.  We will visit many additional locations, viewed from the bus and accented by lights during the night.
Saturday, April 1 – Evening at Spocott Farm
Our final tour stop will be at this historic location on Gary's Creek, just outside Cambridge, Maryland. The house was built in 1663. Explore the wildlife management area with over 5 miles of trails set amongst ponds and wetlands or meander among the 19th century buildings surrounding the Spocott Windmill. As the sun sets on your day of tours, we will have a BBQ and dancing before we return to the hotel. Read the full history of this historic location.
Sunday, April 2 – Awards and Banquet
Join us on the final night of the meeting for the Awards and Banquet, featuring a DJ and dancing, as we bid adieu to the 97th National Block & Bridle Meeting.
Join us after the meeting, on Monday, April 3rd for an optional Congressional Hill Visit day. 
See you in Arlington!