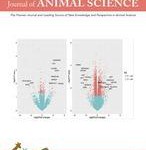 A new issue of the Journal of Animal Science is now available online. Access the Table of Contents of the February 2017 issue (Volume 95, Issue 2).
Also, see what's Just Published.
Get the First Look at articles posted immediately following acceptance.
Visit the JAS Archives.
Cover: Learn more about the image shown on the cover of Vol. 95 No. 2, p. 599-615: Global differential gene expression in the pituitary gland and the ovaries of pre- and postpubertal Brahman heifers.