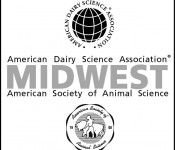 Monday, March 13th marks the start of the 50th Annual Meeting of the Midwest Branch of ADSA and the Midwestern Section of ASAS! Join us on the evening of Sunday, March 12th for a special Welcome Reception at the Durham Railroad Museum in Omaha. 
The program includes several e-Poster sessions, as well as undergraduate and graduate student oral and poster competitions. Use the Midwest app to plan your schedule! Make sure to join us for the following symposia and lectures. View all of the meeting sessions, as well as times and locations, in the 2017 Midwest Meeting Program. Download the Abstract book here.
Monday, March 13
Gary Allee Symposium – "Swine Industry Expansion: Needs and Opportunities Within." Learn more about the symposium.
Digestive Physiology of Pigs Lecture and Lunch – Dr. Eugeni Roura from The University of Queensland will discuss "Nutrient Sensing on Appetite in Pigs" ($15 registration)
David Baker Symposium – Current Issues in Amino Acids in Pigs
Klopfenstein Opening Lecture
Tuesday, March 14
Physiology Symposium – Molecular Events Impacting Production of Fertile Gametes
Growth, Development, Muscle Biology and Meat Science Symposium – Is Bigger Better? A Discussion about the Benefits and Implications of Pigs Becoming Heavier
Nonruminant Nutrition Symposium – Programming of the Immune System
David Schingoethe Symposium – Key Challenges to Dairy Cattle Production in the Midwest
Bentley Lecture and Lunch – Featuring Dr. Kenny Rutherford from Scotland's Rural College on Pain Management in Livestock: Understanding the Views of Producers and Veterinarians ($15 registration)
Extension – Dairy Symposium – The Optimization of the Nutrition of Transition Dairy Cows
Breeding and Genetics Symposium – Genomics of Reproduction
Ruminant Nutrition Symposium – Genetic, Dietary and Microbial Contribution to Feed Efficiency in Cattle
Animal Behavior, Housing and Well-Being Symposium – Finding Effective Ways to Manage Pain in Livestock
Billy Day Symposium – Batch Farrowing: Reasons, Limitations and Reproductive Management
Wednesday, March 15
Special Events at the Midwest Meeting
View times and locations of the following events in the 2017 Midwest Meeting Program.
Sunday, March 12
Welcome Reception at the Durham Railroad Museum
Monday, March 13
Reception and Recognition of Young Scholar Winners
AQ Quiz Bowl Finals and Awards Presentation
Graduate Student Mixer (at the Upstream Brewing Company)
Tuesday, March 14
Graduate Student Breakfast and Learn
Business Meeting and Awards Program
Awards Reception