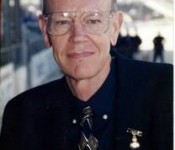 Each year, the Harlan D. Ritchie Appreciation Club sponsors a symposium addressing issues important to beef cattle extension at the ASAS Midwestern Section Meeting. This year will be a special event to celebrate the life of Dr. Ritchie, who sadly passed away in April 2016.
Dr. Ritchie is remembered as a kind, humble and passionate educator, who was renowned for his leading role in the transformation of the beef industry, both in America and across the world. He had a strong international profile, having presented in Europe, Canada, Australia, Mexico and Argentina, in addition to his tireless work in America. Often referred to as a "visionary," Dr. Ritchie was a trailblazer and his leadership drove radical changes in the U.S. cattle industry, helping lead the industry to where it is today. Dr. Ritchie also inspired passion in countless others and passed on his wisdom through his 47-year tenure at Michigan State University.
This year, the symposium will open with a tribute to Dr. Ritchie, which will be followed by presentations looking at both the history and the future of the beef industry.
Speakers include:
Dr. Daniel W. Shike, University of Illinois, will discuss how beef cattle type and selection tools have evolved to meet consumer demands and maximize producer profitability.
Dr. William J. Sexten, Certified Angus Beef, LLC, will discuss factors contributing to increases in quality grade of U.S. fed cattle.
Dr. Kelly W. Bruns from the University of Nebraska will deliver a presentation called "Where Are We Going as Cattle Get Bigger?" which involves a 'big picture' investigation of whether the current trajectory of changes in production is sustainable.
Dr. Ty E. Lawrence, West Texas A&M University, will present on the history, issues and opportunities associated with beef yield grading.
Dr. Carl R. Dahlen from North Dakota State University will chair the symposium. It will be held from 8:30 AM – 11:40 AM on Wed., March 15, in the Omaha CenturyLink Center.