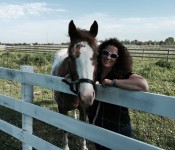 By Dr. Debora Hamernik, ASAS President
At the 2017 Winter ASAS Board of Directors' meeting in Atlanta, GA, the ASAS Board acknowledged and thanked Dr. Meghan Wulster-Radcliffe for more than 10 years of service as the ASAS CEO. The Board presented Meghan with a framed certificate that reads: The American Society of Animal Science Expresses Sincere Gratitude and Much Appreciation to Meghan Wulster-Radcliffe for 10+ years of Leadership, Dedicated Service, and Commitment to Excellence.
Meghan started working for ASAS as the Executive Director in March 2006. One of her first duties as the ASAS Executive Director was to attend the ASAS-ADSA Midwest Section Meetings in Des Moines, IA.
What do you remember about ASAS in 2006?
David Buchanan was President of ASAS. Dr. Jim Males was ASAS Past-President and Dr. Maynard Hogberg was ASAS President-Elect.
The ASAS Board of Directors included two women: Dr. Nancy Cox and Dr. Kris Johnson.
ASAS had about 5,300 total members.
ASAS published one journal—the Journal of Animal Science.
ASAS organized one annual national meeting and 4 annual meetings for the ASAS Sections.
Fast forward to 2017 and ASAS has undergone significant growth in membership and programs—most of these accomplishments are due to Meghan's leadership and vision. Here are just a few examples:
ASAS has more than 7,000 total members, including more than 3,500 professional members, more than 1,000 undergraduate student members, more than 800 graduate student members, and more than 1,200 institutional members. About 30% of ASAS members are from outside the United States.
The ASAS Board of Directors includes six women, including: Drs. Teresa Davis, Chantal Farmer, Kristen Govoni, Deb Hamernik, Kris Johnson, and Sally Johnson.
ASAS publishes four journals, including the Journal of Animal Science, Animal Frontiers, Natural Sciences Education, and Translational Animal Science.
ASAS launched JASEdits in 2016 to provide editorial assistance with grammar and formatting for ASAS journals.
ASAS owns and manages the Animal Science Image Gallery, which contains more than 600 photos, images, figures, etc. that can be used for teaching or for presentations.
ASAS completed an ambitious Strategic Plan (2008 – 2015) and is developing a new Strategic Plan to guide the programs, activities, and infrastructure of ASAS for the next five years (2017 – 2022).
ASAS organizes one annual meeting, 4 annual meetings for the ASAS Sections, an annual Innovate meeting, speaker exchanges with animal science societies in Europe and Argentina, and co-organizes a meeting with China during alternate years.
ASAS members organize and present quarterly Snack & Fact briefings for congressional staffers on Capitol Hill in Washington, D.C., to discuss topics covered in Animal Frontiers. During these sessions, ASAS members disseminate science-based information regarding the care and responsible use of animals to enhance animal and human health and well-being.
Unless you have been an ASAS President or worked in the ASAS office, you probably don't realize the magnitude and scope of duties and responsibilities that Meghan handles on a daily basis. Meghan has done a fantastic job of moving ASAS forward in the 21st Century and preparing the society to handle various challenges associated with communicating animal science to the general public, which will be necessary to ensure sustainable production of animal-sourced foods to ensure global food security in the future.
Please join the ASAS Board of Directors in thanking Meghan for 11 years of leadership, dedicated service, and commitment to excellence!