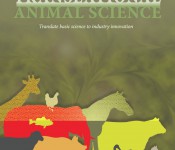 New papers are available in Open Review at Translational Animal Science!
Help review these articles in Open Review:
RESPONSE TO A SALMONELLA TYPHIMURIUM CHALLENGE IN PIGLETS SUPPLEMENTED WITH PROTECTED SODIUM BUTYRATE OR BACILLUS LICHENIFORMIS: EFFECTS ON PERFORMANCE, INTESTINAL HEALTH AND BEHAVIOR.
IMPACTS OF MATERNAL NUTRITION ON PLACENTAL VASCULARITY AND MRNA EXPRESSION OF ANGIOGENIC FACTORS DURING THE ESTABLISHMENT OF PREGNANCY IN BEEF HEIFERS
BACKFAT THICKNESS IN LATE-PREGNANT GILTS: RELATION WITH MAMMARY DEVELOPMENT AND PIGLET GROWTH
DEVELOPMENTAL CHANGES IN FATTY ACID-BINDING PROTEIN (H-FABP) MRNA EXPRESSION AND INTRAMUSCULAR FAT (IMF) CONTENT IN OULA SHEEP
IMPACT OF BIRTH AND REARING TYPE, AS WELL AS INACCURACY OF RECORDING, ON PRE-WEANING LAMB PHENOTYPIC AND GENETIC MERIT FOR LIVE WEIGHT
Also see the new articles in the First Look section of TAS!