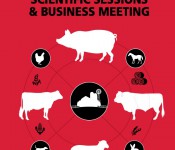 Undergraduate and graduate student oral and poster competitions were held earlier this week at the 2017 Annual Meeting of the ASAS Midwestern Section and ADSA Midwest Branch, in Omaha, Nebraska. Congratulations to all of the participants and to the 1st, 2nd, and 3rd place winners in each of the divisions! The M.S. and Ph.D. Oral and Poster competition awards are sponsored by the ADSA/ASAS Midwest Board. Undergraduate Oral and Poster competitions are sponsored by the Gretchen Hill Appreciation Club, ASAS Foundation.
Here are the student competition results. Visit the ASAS Facebook page to see photos of the competition winners present at the Awards Ceremony on Tues., March 14.
UNDERGRADUATE STUDENT ORAL COMPETITION
PRESENTED BY: PAUL WALKER, DI CONSULTING
1st. Effects of Spring Administration of Extended-Release Eprinomectin (LongRange) on Fescue Toxicosis, Performance and Reproduction of Fall-Born Beef Heifers.
J. M. Kordas*, F. A. Ireland, and D. W. Shike, University of Illinois at Urbana-Champaign
STUDENT: Jessica M. Kordas
2nd. A Commercially Available Activity Monitor Attached to the Ear Tag Detects Swine Oral-Nasal-Facial Behaviors.
G. V. Hernandez*1, R. Manjarin1, Y. Luo2, A. N. Schmitz2, P. J. VandeVord3, E. M. Fievisohn3, and L. E. Hulbert2, 1California Polytechnic State University, San Luis Obispo, 2Kansas State University, Manhattan, 3Virginia Polytechnic Institute and State University, Blacksburg
STUDENT: Gabriella V. Hernandez
3rd. Cognitive Ability, Activity and Metabolic Rate in Mice Divergent for Water Consumption.
D. Magee*1,2, M. T. Haag2, S. B. Johnson2, C. Rosenfeld3, K. D. Wells2, and W. R. Lamberson2, 1Tougaloo College, Tougaloo, MS, 2University of Missouri, Division of Animal Sciences, Columbia, 3University of Missouri, Department of Biomedical Sciences, Columbia
STUDENT: Danielle Magee
GRADUATE STUDENT ORAL COMPETITION – M.S. DIVISION
PRESENTED BY: DANIEL SHIKE, UNIVERSITY OF ILLINOIS AT URBANA-CHAMPAIGN
1st. Assessment of an Alternative Technique for Measuring Body Temperature in Pigs.
A. L. Petry*1, W. S. McGilvray1, A. R. Pendleton2, and A. Rakhshandeh1, 1Texas Tech University, Lubbock, 2South Plains College, Lubbock, TX
STUDENT: Amy L. Petry
2nd. Determining the Phosphorus Release for Natuphos E 5,000 G Phytase for Nursery Pigs.
K. M. Gourley*, J. C. Woodworth, J. M. DeRouchey, M. D. Tokach, S. S. Dritz, and R. D. Goodband, Kansas State University, Manhattan
STUDENT: Kiah M. Gourley
3rd. Timely on-Farm Euthanasia of Pigs: Development of an Innovative and Interactive Training Program for Caretakers.
C. R. Mullins*, M. Pairis-Garcia, and M. R. B. Campler, The Ohio State University, Columbus
STUDENT: Caitlyn R. Mullins
GRADUATE STUDENT ORAL COMPETITION – PH.D. DIVISION
PRESENTED BY: ALLISON MEYER, UNIVERSITY OF MISSOURI
1st. Evaluating the Efficacy of Commercial Feed Additives as Potential Porcine Epidemic Diarrhea Virus (PEDV) Mitigation Strategies in Complete Feed and Spray-Dried Porcine Plasma as Determined by Polymerase Chain Reaction Analysis and Bioassay.
J. T. Gebhardt*1, J. C. Woodworth1, C. K. Jones1, M. D. Tokach1, J. M. DeRouchey1, R. D. Goodband1, J. R. Bergstrom2, J. F. Bai1, Q. Chen3, J. Zhang3, P. C. Gauger3, R. J. Derscheid3, D. R. Magstadt3, P. H. Arruda3, A. Ramirez3, R. G. Main3, and S. S. Dritz1, 1Kansas State University, Manhattan, DSM Nutritional Products, LLC., Parsippany, NJ, 3Iowa State University, Ames
STUDENT: Jordan T. Gebhardt
2nd. The Effect of Isoflurane and Meloxicam on Behaviour of Dairy Goat Kids following Cautery Disbudding.
M. N. Hempstead*1,2, M. Stewart3, J. R. Waas2, V. M. Cave1, and M. A. Sutherland1, 1AgResearch, Hamilton, New Zealand, 2The University of Waikato, Hamilton, New Zealand, 3InterAg, Hamilton, New Zealand
STUDENT: Melissa N. Hempstead
3rd. Lipid Peroxidation Decreases Performance and Viability of Nursery Pigs.
P. L. Chang*1, D. S. Rosero2, C. E. Zier-Rush2, S. Smith2, J. N. Wood3, K. E. Lloyd3, R. D. Boyd2, and E. van Heugten3, 1North Carolina State University, Department of Animal Science, Raleigh, 2The Hanor Company, Inc., Franklin, KY, 3North Carolina State University, Raleigh
STUDENT: Petra L. Chang
UNDERGRADUATE STUDENT POSTER COMPETITION
PRESENTED BY: JAKE LEE, JBS UNITED, INC.
1st. Effects of Vitamins E and D on Performance and Antioxidant Enzymes in Nursery Pigs.
K. R. Copeland*1, D. B. Scales1, G. M. Hill1, J. E. Link1, K. C. Turner1, C. J. Rozeboom1, and R. L. Stuart2, 1Michigan State University, East Lansing, 2Stuart Products Inc., Bedford, TX
STUDENT: Kaylee R. Copeland
2nd. Feeding Liquid Sweet Whey to Growing Swine.
J. M. Lutz*1, N. Ernst1, A. R. Brummit1, J. C. Hofman1, J. P. Schweihofer2, S. Cho1, and D. W. Rozeboom1, 1Michigan State University, East Lansing, 2Michigan State University Extension, Bad Axe
STUDENT: Joseph M. Lutz
3rd. Effects of In Utero Heat Stress on Boar Growth and Reproduction prior to, during, and after Puberty.
J. A. Proctor*1, D. W. Lugar1, M. C. Lucy2, T. J. Safranski2, and K. R. Stewart3, 1Purdue University, West Lafayette, IN, 2University of Missouri, Columbia, 3Purdue University, Department of Animal Sciences, West
Lafayette, IN
STUDENT: Jarret A. Proctor
GRADUATE STUDENT POSTER COMPETITION – M.S. DIVISION
PRESENTED BY: ANNA DILGER, UNIVERSITY OF ILLINOIS AT URBANA-CHAMPAIGN
1st. Vaginal and Uterine Bacterial Communities in Postpartum Lactating Cows.
B. A. Clemmons*1, F. Guirado Dantas1, G. A. Franco1, S. T. Reese1, O. I. Adeyosoye2, T. P. Smith3, P. R. Myer1, and K. G. Pohler1, 1University of Tennessee, Knoxville, 2Obafemi Awolowo University, Ile-Ife, Nigeria, 3USDA-ARS, U.S. Meat Animal Research Center, Clay Center, NE
STUDENT: Brooke A. Clemmons
2nd. Changes in Neonatal Foal Blood Chemistry during the First 72 Hours of Life.
N. B. Duncan*, M. J. Crosby, and A. M. Meyer, Division of Animal Sciences, University of Missouri, Columbia
STUDENT: Natalie B. Duncan
3rd. Effects of Exogenous Phytase Supplementation and Dietary Phosphorus Concentration on Metabolism and Digestibility of Beef Cattle.
C. J. Long*, H. H. Stein, and T. L. Felix, University of Illinois at Urbana-Champaign
STUDENT: Chloe J. Long
GRADUATE STUDENT POSTER COMPETITION – PH.D. DIVISION
PRESENTED BY: GRETCHEN HILL, MICHIGAN STATE UNIVERSITY
1st. Standardized Total Tract Digestible Phosphorus Requirement of 11- to 25-Kg Pigs.
C. M. Vier*1, F. Wu1, S. S. Dritz1, M. D. Tokach1, M. A. D. Goncalves2, U. A. D. Orlando2, J. C. Woodworth1, R. D. Goodband1, and J. M. DeRouchey1, 1Kansas State University, Manhattan, 2Genus PIC, Hendersonville, TN
STUDENT: Carine Vier
2nd. Effects of Floor Cooling on Late Lactation Sows Under Acute Heat Stress.
F. A. Cabezon*1, A. P. Schinckel1, J. N. Marchant-Forde2, J. S. Johnson2, and R. M. Stwalley3, 1Purdue University, Department of Animal Sciences, West Lafayette, IN, 2USDA-ARS Livestock Behavior Research Unit, West Lafayette, IN, 3Purdue University, Department of Agricultural Biological Engineering, West Lafayette, IN
STUDENT: Francisco A. Cabezon
3rd. Effects of Dietary Copper Levels on Growth Performance and Response to Lipopolysaccharide Challenge in Nursery Pigs from Sows Fed Either High or Low Copper Diets.
N. Lu*, and M. D. Lindemann, University of Kentucky, Lexington
STUDENT: Ning Lu