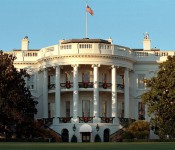 ASAS Responds to Proposed Presidential Budget and Associated Cuts to Research Budgets
The American Society of Animal Science, in the interest of science and worldwide food security, respectfully encourages the President to reconsider massive funding cuts to USDA and NIH.
Champaign, Ill. (March 17, 2017) — President Donald Trump's proposed budget suggests massive funding cuts to agricultural and basic biomedical research.
Specifically, President Trump is seeking a $4.7 billion dollar decrease in the USDA's discretionary spending budget (a 21% decrease from the 2017 budget). "Discretionary" programs that will absorb these cuts include: research grants, food safety, rural development and conservation and international food aid. In addition, President Trump calls for the reduction of NIH funding by $6 billion dollars (20% of its total budget), as well as a $900 million dollar reduction to the Department of Energy Office of Science and significant reductions to EPA, the National Oceanic and Atmospheric Administration, NASA's Earth Science funding, and the DOE's Advanced Research Projects Agency-Energy.
Drastic reductions in the budgets of government agencies involved in research that addresses and solves major problems in agriculture put food and national security at risk. Additionally, ensuring that the U.S. remains a leader in the basic sciences that address human and animal health, the environment, and technological advancement is critical infrastructure and economically sound policy.
Previous administrations have viewed funding of basic and applied research as bipartisan. We ask the President and members of Congress to
reconsider these proposed cuts because agriculture and agricultural research funding at the federal level is one of the critical keys to our success as a nation.
We encourage ASAS members to contact their local legislators to voice concerns over the dramatic cuts proposed to federally funded research in the U.S. The American Society of Animal Science whole-heartedly believes that these cuts will impact the U.S.'s position as a global leader in agricultural research.
Media Contact
Kim Schoonmaker
American Society of Animal Science
Scientific Communications
217-356-9050