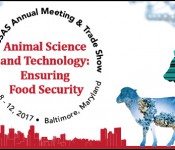 Plans are underway for a Forages and Pastures Symposium focusing on a whole-system approach to cover crops in livestock production. Save the date: Tuesday, July 11, 2017, 2:00-5:00 PM. Make plans to join us for this symposium at the 2017 ASAS-CSAS Annual Meeting & Trade Show!
Cover crops present a unique opportunity in livestock production, with the potential to improve the health and productivity of the whole production system. They can improve soil health and water quality, and also provide a valuable source of food for livestock. Support for a whole-system approach to the use of cover crops has often largely been based on anecdotal evidence. This symposium, put together by the Forages and Pastures Committee, draws from research with long-term data providing insight into the broad range of benefits offered by including cover crops in livestock systems. This research is particularly important in the context of our rapidly growing global population, as production intensification becomes more significant and our production systems must be optimized, while ensuring that environmental health is managed.
Clayton Robins, chair of the Committee, explains that cover crops can play a key role in regenerative agriculture and also in helping to improve the resilience of production systems. This will be vital moving into the future.
The presentations making up this symposium offer economic and realistic assessments of the role of cover crops and of the benefits and practical implications of including them in a system. Many aspects of cover crops will be addressed; from their potential as economical forage sources and their impact on animal performance, to their influence on water and nutrients in the system. The speakers will present research based in both the Southern and Northern Great Plains of North America and also from Brazil, hence the challenges and benefits of including cover crops in significantly different environments will be examined. Their role in conservation and regeneration will also be discussed.
The symposium includes the following presentations:
Mary Drewnowski (University of Nebraska-Lincoln): "Can cover crops pull double duty: conservation and economical forage production?"
David Archer (USDA-ARS, Mandan): "Integrated Crop-Livestock Systems and Cover Crop Grazing in the Northern Great Plains."
Paulo César de Faccio Carvalho (Universidade Federal do Rio Grande do Sul, Porto Alegre, Brazil): "Animal production and soil characteristics from Integrated Crop-Livestock systems: towards sustainable intensification."
Sandra Leanne Dillard (USDA-ARS): "Brassicas and Annual Forages: Influence on Animal Performance and Water/Nutrient Management"
Richard Teague (Texas A&M): "Managing Grazing to Restore Soil Health and Ranch Livelihoods"
Register today for the 2017 ASAS-CSAS Annual Meeting & Trade Show.
See you in Baltimore, July 8 – 12, 2017!