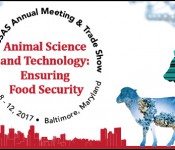 The ASAS office began notifying presenting authors of Annual 2017 abstract status (accept/reject) on March 27, 2017. (Please note abstract status notifications are sent to presenting authors.) If you are the presenting author and have not yet received an Accept/Reject notice (as of March 29, 2017), please check junk or spam mail. If you have any questions or concerns, please contact the ASAS office at asas@asas.org. To facilitate rapid responses, please include your abstract ID in all correspondence.
Rejected Abstracts
If your abstract was rejected, you do have the opportunity to appeal. Please submit appeals via the online Appeal Form. Please allow two full business days to receive a confirmation email. Appeals are due at 11:59 PM CST on April 4, 2017. Appeal decisions will be sent to the presenting author mid-April.
Accepted Abstracts – Nonmember Early Registration Policy
All accepted abstracts must be presented. To reduce the number of no-show presenters the following policy is being enforced for the 2017 meeting:
If the presenting author is a member of ASAS or CSAS, the presenting author has until the day of presentation to register for the conference. If no one shows up for the presentation or if the presentation author does not register by the day of the presentation, the abstract will be removed from the abstract book. This includes ePoster presentations.
If the presenting author is not a member of ASAS or CSAS, he/she has three days from the time acceptance notifications are sent out to register for the meeting.
If the presenting author does not register for the meeting or become an ASAS or CSAS member by 11:59 PM CST on April 2, 2017 the abstract will automatically be rejected.
Accepted Abstracts – Presentation Notifications
Presentation formats have not yet been assigned to abstracts. Individual Program Committee Chairs have the prerogative of placing papers submitted for oral presentation into a poster presentation, or vice versa. Presenting authors will be notified of the format of their presentation when they are notified of presentation times.
Call for Late-Breaking Abstracts
Late-Breaking Abstract submissions will open April 7, 2017. Only a select number of abstracts will be accepted. More details will be released April 7, 2017.
Important Meeting Details
Nonmember Early Registration Deadline
March 31, 2017
Housing Deadline
June 19, 2017
Meeting Dates
July 8-12, 2017
Meeting Location
Baltimore Convention Center
Register for the ASAS-CSAS Annual Meeting, July 8-12, Baltimore, Maryland!